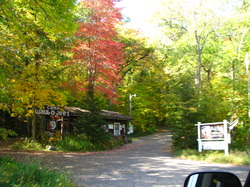 Camping season has come to an end. We have truly enjoyed meeting new people, making new friends and seeing old friends. We were quite busy with improvements and upgrades. Pics will be updated soon. We are already counting the days for the upcoming season! We can't wait to see you all again! Have a great winter and we'll see you next spring!
For weekend getaways, family reunions, weddings or group activities, give us a call or book here!
PETS WELCOME - no additional charge.
---
With over 40 riverfront acres in the beautiful St. Croix river valley, our campground is the ideal base of exploration for the many exciting natural treasures of Taylors Falls. Whether you want to 'rough it' in one of our primitive campsites or have all the comforts of a RV hook-up, we offer a get-away that is just what you've been looking for. Remote enough to be a welcome break from urban life, but close enough to enjoy any weekend, make camp Waub-O-Jeeg a family tradition.
Office hours: 8am - 8pm (May-Oct)
PLEASE CALL 651-465-3500 FOR ASSISTANCE.

Campground Store hours:
Call 651-465-3500 for assistance.